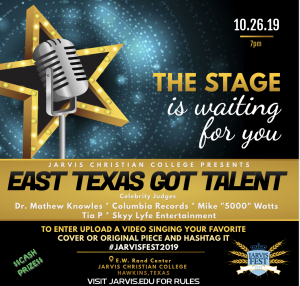 Contest Description
Calling all singers and rappers! Is it your dream to be in the entertainment industry? Well now's your chance to share your talent with a panel of celebrity judges: Dr. Mathew Knowles (Music World), Columbia Records, Mike "5000" Watts (Swisha House), Tia P (The Next Big Thing) and more.
Submit your audition video on instagram using the hashtag #JARVISFEST2019 by Friday, Oct. 18, 11:59 p.m. CST.
Audition videos should be no more than 2 minutes long. One audition video per contestant. (If multiple videos are uploaded, only your first video will be accepted.) Videos should have no profanity, sexually explicit language or attire or racial slurs. Selected contestants will be required to pay an entry fee starting at $100 ($25 for Jarvis students), which includes an advertisement in the event program booklet. Upload your video today! All genres welcome!
Follow us on Social Media
Facebook: Jarvis Christian College
Instagram: Jarvis_Christian_College
Twitter: @_JarvisCC
YouTube: JarvisCC1
Contestant Audition Videos
View contestant's audition videos via this link or on Instagram using the hashtag #JarvisFest2019.
Eligibility Requirements
1. In connection with my potential participation in the Program, I represent and warrant that I am either:
(i) a United States Citizen.
(ii) a legal permanent resident of the United States.
(iii) possess a current employment authorization card (EAD card) or am in the United States legally at the time of my initial audition.
2. I understand and agree that I will be required prior to live shows to show proof of unrestricted employment authorization or have appropriate visa status in the United States that allows me to work in connection with Program prizing or the exercise of Program contract options, as determined by The Media Room ("Producer"), in their sole discretion. If my citizenship, residency, EAD card, and/or legal status in the United States changes at any time, I agree to notify Producer immediately. I hereby agree to complete, execute and deliver, in person, to Producer all required forms necessary to establish identity and eligibility under the Immigration Reform and Control Act. I warrant and represent that I will make all necessary payments due to governmental agencies to comply with the foregoing.
3. Producer and/or Jarvis Christian College reserve the right to render ineligible, disqualify, and/or remove from the Program any person they determine, in the sole discretion of either, is sufficiently connected to the Program or any Program Entities, such that his or her participation in the Program could create impropriety, the appearance of impropriety, and/or in any way prejudice Program competition fairness. Conversely, Producer and/or Jarvis Christian College reserves the right to allow any person who may have a connection with the Program or Program Entities to remain participating in the Program if, in Producer's and/or Jarvis Christian College's sole discretion, either determines that such person's involvement in the Program does not and will not affect the integrity and fairness of the Program or Competition.
4. If selected as one of the Top 15 to perform in front of celebrity panel, I will be required to pay an entry fee starting at $100 ($25 for Jarvis Christian College students). I further understand that I must have the entry fee paid within 24 hours of notice. I understand that this is a non-refundable fee and if it is not paid within 24 hours of notice, I risk losing my spot in the top 15.
I understand and agree that Producer has the sole discretion to make determinations of eligibility, and that Producer reserves the right to change any of the eligibility requirements at any time. Producer may, at any time and in its sole discretion, require proof of my identity and/or eligibility. I hereby represent and warrant that I meet all of the requirements listed above.
United Negro College Fund (UNCF) Information
Support Jarvis Christian College's UNCF Fund. If all funds are raised, funds will be used to support Jarvis Christian College.
---